Congrats to the Masque Class of '04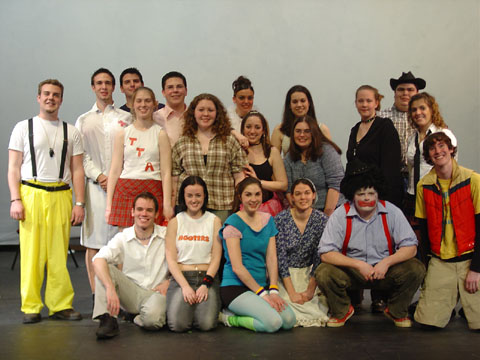 click for full-size image
Aren't they cute? A fun evening was had by all, including some of the funniest and dirtiest moments that I can remember ever seeing (at inductions, or otherwise.) Congrats to all. Aside from a few small issues, the night was highly successful.
Last night was the "Real World" event also. RSA brought 2 former cast members to campus to talk about their experiences. I only went because I was working the lighting (Yes, I am a whore...) By 7:00, when I got there (event at 8pm) the entire lobby was full of people. The theater was pretty packed by the end...
It was one of the "Best and Worst" moments of La Salle that I've seen. Best: It was a well run event. From RSA's point of view, it was a great opportunity to do something different that the campus hasn't seen much before. It also appealed to groups on campus who otherwise aren't reached by RSA. In short - it was a non-typical La Salle event, which was awesome. The worst parts of the evening concerned our audience, who for the most part, showed up drunk and disorderly, only coming to shout the name of their group or promote their party or whatever. Both of the cast members are to be applauded somewhat for trying to keep the event on some kind of track. But the audience was determined to run it off that track...
RSA should be applauded for the event - for bringing something new to campus, and for handling it as well as they could. As much as I make fun of RSA, this was a wonderful event, and they don't deserve to be crucified all over campus for the actions of the individual audience members.
(At some prodding from friends, II also wound up getting a photo with Cameran, one of the current cast members...the image is posted here...)

Personally, things are going better. We are getting a fifth roommate, which is tough at this point in the game, but we're trying. My level of stress are dropping significantly this weekend - some of that due to the roommate issue getting finalized, some of it due to the good weather, some of it due to just having the week over.
The first "meeting/in-service" was held today for next year's Community Development staff. It felt strange and gratifying not having to attend. It's the first in-service that I've missed in three years... another chapter closes...a new chapter opens.
Random lyrics of the moment, in lieu of a representative quote:
Van Diemen's Land, U2
Hold me now, oh hold me now
'til this hour has gone around
And I'm gone on the rising tide
For to face Van Diemen's land
It's a bitter pill I swallow here
To be rent from one so dear
We fought for justice and not for gain
But the magistrate sent me away
Now kings will rule and the poor will toil
And tear their hands as they tear the soil
But a day will come in this dawning age
When an honest man sees an honest wage
Hold me now, oh hold me now
'til this hour has gone around
And I'm gone on the rising tide
For to face Van Diemen's land
I dunno...reading too much into them as I always seem to do, but it's an interesting song anyhow.
Off to do some reading and have a fun-filled Saturday evening.
[Listening to: "All Along The Watchtower", by U2 from the album "Rattle and Hum"]
Posted by Matthew at
04:11 PM
|
Comments (0)